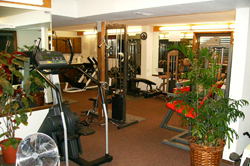 Total body healing and wellness is not just about coming in for the latest techniques in Physical Therapy. Your family at Powell Chiropractic loves to see your smiling face, but ultimately, we want to empower you to take charge of your  own rejuvenation.
Wellness Begins With You!
Exercise is an important part of a comprehensive wellness program. As one of Dr. Dave's patients, you can expect to receive some training during your chiropractic appointment to help you manage your pain and maintain your health at home.
Not Sure How To Get Started?
Many people are nervous about starting an exercise regimen when they are in pain.  We have teamed up with Misty Krosky, CES, CPT, FNS. She is our resident Personal Trainer who can assist you in recovering from an accident or simply show you the basics. Without ever leaving our facility, you can learn how to…
Stretch
Warm-Up
Cool-Down
Exercise For Heart Health Using Cardio Machines
Strengthen Your Body Using Free-Weights
Develop A Rehabilitative Exercise Program
Lose Weight To Reach Your Ideal Body Mass Index
Progressively Challenge Yourself, Without Incurring Injury
Contact Jeannie at 687-6096 to schedule a personal tour of our facilities.
Be Your Best!
Our customized approach is designed to address your unique situation and you will find that our gym is an affordable way to make physical fitness a part of your everyday life.  The gym is conveniently available to any active member to fit your busy schedule (contact us for gym hours.)  At our one-stop-shop for wellness, you will leave feeling like a whole new person.